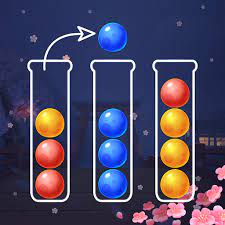 You need Adobe Flash Player to play Ball Sort Puzzle.Click to use Flash
Ball Sort Puzzle is a well-liked option among players because it is a fun game that does not require any financial investment and comes extremely suggested. Players can play it for free.
The objective of this game is for you to arrange the balls in the tube according to the colors of the balls themselves and then place all of the balls that are the same color into a single tube. Locate the balls of the same color inside each of the tubes, and then collect those balls. At first, you will notice tubes that have been filled with a variety of balls in a variety of colors and placed before you. If you click on one tube, then another tube, the initial ball in the first tube won't be replaced until you click on a third tube. This is due to the fact that the procedure of replacement is carried out in a sequential fashion. Does it seem to be a straightforward process? You will be offered a greater variety of color combinations to rearrange as the game progresses, and the more you play, the more options you will have.
What do you say we get this game going, shall we?
Tags :