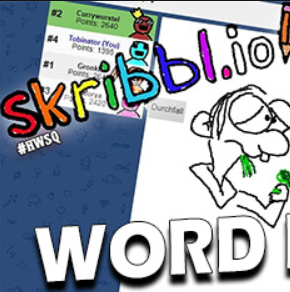 You need Adobe Flash Player to play Skribbl.io.Click to use Flash
In Skribbl.io, you must battle against each other using drawings and their own knowledge. The chosen user has to draw whatever word they are given. Other players have to guess it to gain points. You will have so much fun playing this multiplayer drawing game.
Controls :
Use the left mouse button to draw
The keyboard to give guesses.
Tags :
9 Views

IFRAME_HTML

93 Views

IFRAME_HTML

72 Views

IFRAME_HTML

250 Views

IFRAME_HTML

189 Views

IFRAME_HTML

343 Views

IFRAME_HTML

152 Views

IFRAME_HTML

190 Views

IFRAME_HTML

637 Views

IFRAME_HTML

181 Views

IFRAME_HTML

278 Views

IFRAME_HTML
93 Views

IFRAME_HTML

72 Views

IFRAME_HTML

190 Views

IFRAME_HTML

637 Views

IFRAME_HTML

1866 Views

IFRAME_HTML

521 Views

IFRAME_HTML

460 Views

IFRAME_HTML

541 Views

IFRAME_HTML

961 Views

IFRAME_HTML

1533 Views

IFRAME_HTML

386 Views

IFRAME_HTML
343 Views

IFRAME_HTML

374 Views

IFRAME_HTML

1866 Views

IFRAME_HTML

936 Views

IFRAME_HTML

186 Views

IFRAME_HTML

524 Views

IFRAME_HTML

541 Views

IFRAME_HTML

314 Views

IFRAME_HTML

1533 Views

IFRAME_HTML

660 Views

IFRAME_HTML

952 Views

IFRAME_HTML