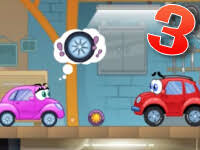 You need Adobe Flash Player to play Wheely 3.Click to use Flash
The most recent installment in the Wheely series of adventure arcade games, Wheely 3, is now available to play for free online.
The objective of the game is to complete all of the different levels that are currently accessible. To enable Wheely to proceed forward, you will first need to eliminate the obstacles in its route and take down the barricades that have been placed in its way. You are going to need to make use of your knowledge of physics in order to overcome some of the challenges that are included in the stages. The goal is for each succeeding level to be noticeably more challenging than the one that came before it, and this objective applies regardless of the complexity of the level that is currently being played. As a direct result of this, players who are able to successfully complete the game will enjoy an experience that is equal parts exciting and fulfilling.
Take part in a game or activity that focuses on working together.
Tags :