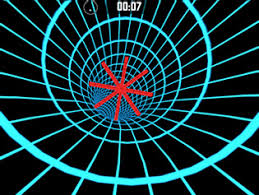 You need Adobe Flash Player to play Blue Vortex.Click to use Flash
Blue Vortex is a free game that may be played endlessly and provides entertainment for many people.
Your objective in this game is to emerge from the lengthy passageway at the other end of the path. Through the use of the joystick, you will be in charge of directing the actions of your hero. Make your way through the tunnel you go through in first person perspective by moving about with your mouse, and keep in mind that your score is determined by the amount of time you spend in the tunnel rather than the distance you travel through it. You must avoid colliding with the red barriers at all costs and instead navigate through any of the holes they may contain. Therefore, your goal should be to advance as far as you can and achieve the greatest score possible.
Let's get a game going here.
Tags :
10 Views

IFRAME_HTML

251 Views

IFRAME_HTML

189 Views

IFRAME_HTML

346 Views

IFRAME_HTML

152 Views

IFRAME_HTML

191 Views

IFRAME_HTML

182 Views

IFRAME_HTML

634 Views

IFRAME_HTML

281 Views

IFRAME_HTML
191 Views

IFRAME_HTML

634 Views

IFRAME_HTML

1869 Views

IFRAME_HTML

524 Views

IFRAME_HTML

461 Views

IFRAME_HTML

542 Views

IFRAME_HTML

961 Views

IFRAME_HTML

1535 Views

IFRAME_HTML

386 Views

IFRAME_HTML
182 Views

IFRAME_HTML

281 Views

IFRAME_HTML

936 Views

IFRAME_HTML

524 Views

IFRAME_HTML

186 Views

IFRAME_HTML

170 Views

IFRAME_HTML

461 Views

IFRAME_HTML

542 Views

IFRAME_HTML

386 Views

IFRAME_HTML