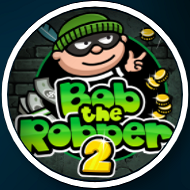 You need Adobe Flash Player to play Bob the Robber 2.Click to use Flash
Bob the Robber 2 is the sequel to the game Bob the Robber. In this part the gameplay is the same as the old one, but it will have more interesting and richer challenges. You must be stealthy in each level to complete the objective and successfully escape. Bob help the local thief to save the city in this stealthy thieving adventure. Bob the Robber 2 features 10 different levels, each filled with security cameras, guards, trap doors, and more. You need to complete the target and pass the level to level up. Hide in the shadows to avoid the gaze of the security cameras, snip wires to slip past the laser barriers, pick locks and find the passcodes for steel doors. Become a silent hero in the dark, punish the corruption of the mafia and rich CEOs to help the poor save the city. Good luck.
Controls :
Use AD or left/right to move.
Use up or down arrow to interact.
Use space bar to knock-out a guard.
Tags :
29 Views

IFRAME_HTML

109 Views

IFRAME_HTML

177 Views

SWF

106 Views

IFRAME_HTML

350 Views

IFRAME_HTML

547 Views

IFRAME_HTML

165 Views

IFRAME_HTML

247 Views

IFRAME_HTML

370 Views

IFRAME_HTML

129 Views

IFRAME_HTML

325 Views

IFRAME_HTML
28 Views

IFRAME_HTML

305 Views

IFRAME_HTML

209 Views

IFRAME_HTML

2147 Views

IFRAME_HTML

445 Views

IFRAME_HTML

175 Views

IFRAME_HTML

1172 Views

IFRAME_HTML

472 Views

IFRAME_HTML

875 Views

IFRAME_HTML

2353 Views

IFRAME_HTML

1189 Views

IFRAME_HTML
130 Views

IFRAME_HTML

228 Views

IFRAME_HTML

719 Views

IFRAME_HTML

315 Views

IFRAME_HTML

775 Views

IFRAME_HTML

175 Views

IFRAME_HTML

493 Views

IFRAME_HTML

1172 Views

IFRAME_HTML

472 Views

IFRAME_HTML

875 Views

IFRAME_HTML

1189 Views

IFRAME_HTML