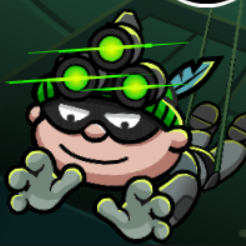 You need Adobe Flash Player to play Bob The Robber 3.Click to use Flash
Bob The Robber 3 is an exciting 2D action game that has been responded by. In this section the graphics are upgraded smoother bring a completely new experience. And Bob has a new journey too, now he is no longer an anonymous thief, but has worked for the military and has become a secret agent thief. You help him uncover all the secret documents hidden in each level as you try to reach the vault. Similar to the previous times but this time you have to be much more careful, more alert. You must learn how to sneak past smart guards, pick locks, and break open safes, avoid security cameras, cut fuse boxes, render your foes unconscious and hide in the shadows to achieve your ultimate goal. Walk out undetected to keep all of the loot. Have fun.
Play older and newer episodes Bob The Robber and Bob The Robber 4
Controls :
Use AD or left/right arrow to move.
UseW or up arrow to interact.
Tags :