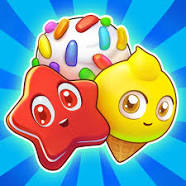 You need Adobe Flash Player to play Candy Riddles: Free Match 3 Puzzle.Click to use Flash
Candy Riddles: Free Match 3 Puzzle
Candy Riddles: Free Match 3 Puzzle is an exciting free arcade game that takes players through a variety of levels and gives them the opportunity to win points.
The objective of this game is for you to progress through each level by successfully fulfilling a variety of assignments. If you want to complete each level without using up all of your movements, you have to gather a set quantity of candy. In order to gather candies, you need to line up at least three of the same kind in a row, either vertically or horizontally. Simply clicking and dragging these irresistible candies will relocate them. You may make a "hero candy," which is capable of completing many candies at once, by stacking four or more of these sweets.
Let's get a game going here.
Tags :