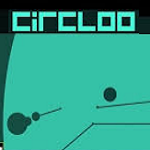 You need Adobe Flash Player to play CircloO.Click to use Flash
CircloO is an arcade platformer game in which you control a circle that must collect other circles to expand the level and continues the game. The game uses a physics engine that you must manipulate as you cannot jump, build momentum up to successfully travel around the map. Take advantage of the speed, sometimes that is the key to winning this game. The game has are 14 levels in total to complete plus an additional 6 hard mode levels. The game brings a lot of fun, playing and conquering levels. Have fun.
Controls :
Use AD or left/right to control.
Tags :