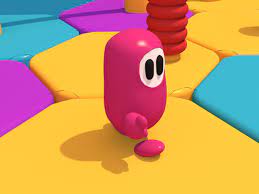 You need Adobe Flash Player to play Fall Beans.Click to use Flash
The free and exhilarating multiplayer game Fall Beans is a fun and amusing way to pass the time.
Your mission is to move rapidly, overcome other competitors, and avoid any obstacles that may be in your path. Participate in the competition and demonstrate your skills in order to become victorious.
Since Fall Beans is a multiplayer game modeled after Fall Guys, the game's mechanics are straightforward and easy to grasp for anyone who has experience with games of a similar style.
Nevertheless, the chat box component is what sets Fall Beans apart from other games in its genre. It indicates that you are able to interact verbally with other players while the game is in progress. You can convey your thoughts and sentiments to other players by sending them cute emoticons through the game's built-in messaging system.
This game features a wide variety of levels, ranging from simple to challenging. Each level contains a variety of hazards, such as collapsing floors and barriers that move. Make sure you steer clear of these pitfalls and look for the most efficient approach to win!
Let's get a game going here.
Tags :