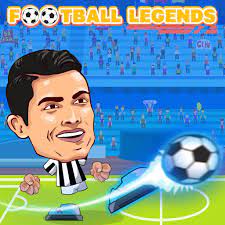 You need Adobe Flash Player to play Football Legends.Click to use Flash
Football is one of the most frequently discussed subjects. Players have the chance to compete in some of the most thrilling football matches from the World Cup in the Football Legends game.
If you enjoy other sports games like Basket Random or Basketball Beans, it is impossible to ignore the football game Football Legends. The game offers Quick Match, 1 Player, and 2 Player game types for players to choose from. If you're playing alone, you can choose the 1 Player option to compete against a computer opponent or the Quick Match mode to compete against gamers from across the globe. If you want to play this game with your friends and fight together, choose the 2-Player mode. The object of the game is to direct the player's character to kick the ball into the opposing team's goal as frequently as possible in order to score as many points as possible. Regardless of the game style you choose, this goal remains the same. By amassing more points than your opponents throughout the game, you can win.
Specifications of the game
This game is a football game, which is a genre that nearly always has something intriguing to offer.
People can choose from a variety of modes that are offered.
You can make use of the full-screen mode and stunning graphics.
Tags :