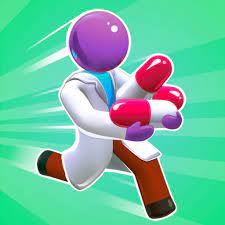 You need Adobe Flash Player to play Healing Rush.Click to use Flash
In the entertaining arcade game Healing Rush, your goal is to run a hospital in order to treat patients and accumulate a profit. Make your hospital better by putting this money to use!
You have entered an intriguing idle game in which you can assume the role of a physician and work to ensure the well-being of the other people living in the city. The game's mechanics are really straightforward and easy to get a handle on. To have control of the character, all you have to do is slide and click. In addition, regardless of your age, you can enjoy playing this arcade game. Come to Healing Rush to get a firsthand look at what it's like to work in the medical field!
Within this game, there are a great number of patients who require medical attention. When you're a doctor, part of your job is to help patients get comfortable and provide treatment for them. Give them the appropriate drugs so that they can get better. If you are able to effectively treat the patient's illness, the patient will pay you a certain amount of money. Make use of the money you've acquired to increase the size of your hospital.
Be prompt, because there are a lot of patients who are waiting for you to finish up!
Tags :