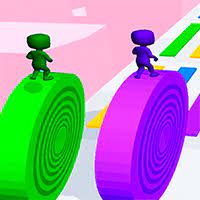 You need Adobe Flash Player to play Layers Roll.Click to use Flash
Rolling continuously on a roll of colorful sticky tape while maintaining your equilibrium and collecting strips of the same color along the way is the objective of the incredibly original arcade racing game known as Layers Roll.
The goal of the game is to grow the size of the roll as you gather strips of the same color along the route. You will have to navigate through light tunnels while avoiding obstacles, and as you make your way farther into the game, your character will undergo a complete transformation.
You have the potential to raise your score by taking advantage of any number of additional elements that come to mind. In order to accomplish this, you will need to keep growing indefinitely, amass a significant quantity of coins along the way, and make it to the finish of the level.
What do you say we get this game going, shall we?
Tags :