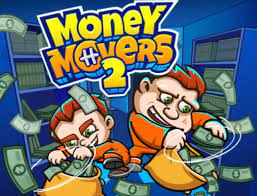 You need Adobe Flash Player to play Money Movers 2.Click to use Flash
Money Movers 2 is the successor to the free game of your skill that has gained a lot of popularity recently.
The objective of this game is to progress through all of the levels by overcoming challenges such as puzzles, pressing buttons, pulling levers, and avoiding guards. It is necessary for you to exercise control over both of these characters in order to go through each level and solve the challenges that you will face there. The younger brother can sneak through tiny corridors to avoid being detected by laser detectors, while the older sibling can lift and throw objects to clear the path or take down a guard who is chasing them. You play the role of both the older brother and the younger brother in this story. While the older sibling has more strength and stamina, the younger brother has more agility. The detention facility has numerous safety measures in place, including surveillance cameras, laser detectors, and more. The first element of the game is to break out of prison, and now that the criminal brothers have done that, the next step is to break into the facility where their father is being held captive and release him.
Let's get a game going here.
Tags :