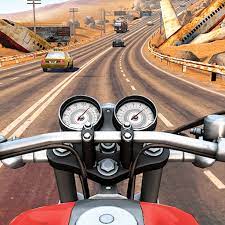 You need Adobe Flash Player to play Moto Road Rash 3D.Click to use Flash
A large number of gamers like playing the exhilarating, three-dimensional racing video game Moto Road Rash 3D, which is available online for free.
This game's goal is for you to complete all of the stages by successfully conquering all of the obstacles in your path in a way that pleases the game's creators. As you advance through the levels of the game, the goals of each mission will change, forcing you to overcome challenges that you haven't yet encountered. Selecting the next button from the main menu will allow you to start the game whenever you choose. You can start playing whenever you like. Make a decision between the four different game types that are accessible to you as the next step. You have a finite amount of time to complete the requirements in order to continue with the assignment. Even though you should be driving rather quickly, you must never forget that there are other cars on the road. Some of the levels in the game require you to completely overhaul the bicycle you are currently riding or buy a brand-new bike in order to progress.
How about we start the game now, shall we?
Tags :