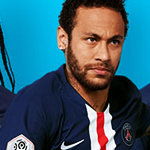 You need Adobe Flash Player to play PSG Football Freestyle.Click to use Flash
PSG Football Freestyle will provide you with the opportunity to showcase your best football skills in front of cheering stadium spectators. Get ready! Whether you refer to it as football or soccer, this game will keep you on the edge of your seat the entire time. You may put your skills to the test by attempting fantastic tricks with some of the best players in Europe, such as Thiago Silva and Marie-Antoinette Katoto, and aiming for high scores that are truly astonishing.
Penalty Shoots 2: Football Game and Real Freekick 3D: Soccer Game are two games that you must play if you have a craving for more intense soccer matches.
PSG Football Freestyle is an experience that will completely submerge you in the world of Paris Saint-Germain Football Club. In this game, you will stand on the sidelines alongside the players as they perform some of their most impressive moves. You'll need to master a variety of juggling skills in order to rack up an impressively high score.
Let's get a game going here.
Tags :