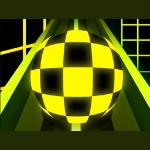 You need Adobe Flash Player to play Rolling Ball 3D.Click to use Flash
Rolling Ball 3D is a free and fun entertaining game loved by many.
Your task in this game is to lead a 3D ball down a series of interwoven ramps as it rolls and picks up momentum. You need quick reflexes and impulses to control the ball. Collect all diamonds on the run to unlock the next. Be careful with the blocks you find along the way. They are in difficult locations, so you have to be quick to avoid them.
Let's play a game.
Tags :