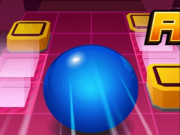 You need Adobe Flash Player to play Rolling The Ball 2022.Click to use Flash
Rolling The Ball 2022 is a fun entertainment game that is loved by many people.
Your mission in this game is you have to swipe left or right to roll the Ball and avoid obstacles to reach your goal. Try our ball rolling game right away! This ball game not only serves as a great way to pass the time, but it's also a great brain exercise. Collect diamonds along the path and avoid running into any obstacles. Complete the level and move on to the next level to keep playing this endless 3D ball game for as long as you want.
Let's play the game together.
Tags :