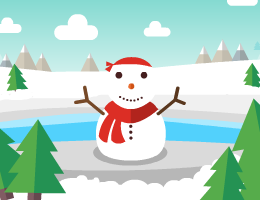 You need Adobe Flash Player to play Snowball Fast .Click to use Flash
Snowball Fast is a free and fun entertaining game loved by a lot of people.
Your task in this game is to score as many points as possible and get high scores. You just need to click on it with the mouse and hold it to throw it at the snowman you have selected. If you correctly calculate the trajectory and strength of the throw. With each minute the number of snowmen will increase and you will need to react fast to it and throw the snowballs faster. Rounds are passed if you hit a certain number of targets. If you can't do that you have to start over. So please try not to miss the game in the game.
Let's play a game.
Tags :