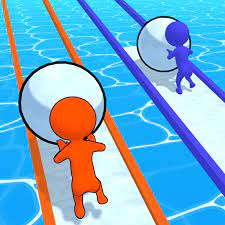 You need Adobe Flash Player to play Snowball Racing.Click to use Flash
Snowball Racing is a challenging video game that is also a lot of fun to play, and a lot of people really love playing it for pleasure.
The goal of this game is for you to amass as much snow into a huge snowball as you can by moving around and collecting it. It is necessary only to move the cursor in the appropriate directions for you to be able to slide across the platform and collect snow in your hand. You are going to need these snowballs because you are going to be using the snow to pave the route ahead in order for you to be able to advance from platform to platform and eventually reach the conclusion of this level. If you want to come out on top in this competition, you have to be speedier than your rival. The stickman who has the larger snowball has an advantage over the others because he can always hit them, causing them to collapse and allowing him the opportunity to capture their snowball. This gives him an advantage over the other stickmen. Be aware of your rivals, and if you truly want to conquer the snowy roads, you should give this tactic a chance. Be sure to watch out for them.
Let's play the game together.
Tags :