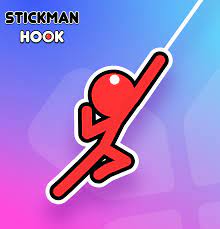 You need Adobe Flash Player to play Stickman Hook.Click to use Flash
Stickman Hook is a popular skill entertainment game that is also free to play.
The objective of this game is to make it all the way to the end zone by swinging from platform to platform. You won't have to wait long before you start to wobble. To untie yourself from the rope, simply hit the left mouse button once more. It will be easier for you to go through the air and get to the finish line if you swing in the direction that the other hooks are facing. There will be moments when there is a significant space between the hooks. You could attempt hopping from pedestal to pedestal in order to bridge the gap that exists between these hooks. If you want to get to the next hook, you need to try to determine the correct direction, speed, and bounce. There are three different paths to take in order to acquire these new skins. You have the opportunity to earn rewards by watching videos within the game, you can also gain skins by successfully completing stages, or you can perform some special challenges, so feel free to choose whichever option appeals to you the most.
Let's compete against one another in the game.
Tags :