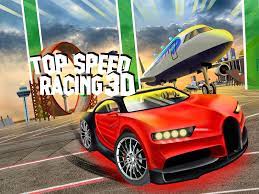 You need Adobe Flash Player to play Top Speed Racing 3D.Click to use Flash
Players have provided a lot of favorable comments for the racing game Top Speed Racing 3D, which features a free-roaming environment.
Your mission in this game is to make your way across the city so that you can attend the events and complete the objectives that have been given to you. You have the opportunity to take part in the most challenging competition that has ever been held. This competition will put your skills to the test as you go through progressively challenging levels and unexpected obstacles. By playing this game, you will have the chance to exhibit how skilled a racer you are, and the competition will be fierce. You must steer the vehicle safely around the obstacles while simultaneously accruing more point values. Your profit potential may increase as a result of your participation in the event. Move about the city looking for things to do in order to fill your time so that you can complete it. Participants are welcome to take part in a wide variety of unscrupulous competitions, including parkour and drifting, for example. If you complete a level, you will receive monetary compensation in recognition of your hard work.
Let's go head-to-head in this game and see who comes out on top.
Tags :