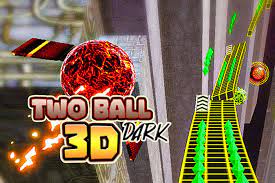 You need Adobe Flash Player to play Two Ball 3D Dark.Click to use Flash
The free entertainment game Two Ball 3D Dark is a lot of people's favorite way to have fun.
As you progress through the game's levels, it will be up to you to guide and direct this ball as it encounters various obstacles. There are two different game types available for you to try out. You have the option of playing the game on your own to evaluate your skills in the single-player mode, or you can play it with a friend to see whose score is greater in the two-player version. You won't have too much trouble overcoming the obstacles when you first start playing the game; however, as you advance through the levels, you'll have to roll over moving barriers and bounce over big gaps. Collecting them will allow you to unlock new skins as well as new abilities.
Let's get a game going here.
Tags :