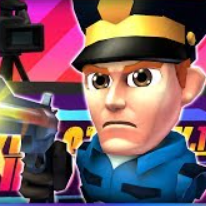 You need Adobe Flash Player to play KillStreak.tv.Click to use Flash
KillStreak.tv is a fun shooting game with classic graphics. Your task is to move around the map and try to rack up your opponents as many kills as possible. Especially customizable character's appearance and weapon. The game has three arena levels to play in: Warehouse Warfare, Bar Room Brawl & Carpark Carnage. Level up to Earn XP for equipped gear, unlock new skins and mods, mods available for each Item, with more content coming soon. The game offers great graphics and a first person view, together with many skins that can help you customize your character. Try your best to be the last fighter standing and get the best killstreak Have fun.
Controls :
Use WASD or arrow keys to move.
Use Left-click to shoot.
Use Right-click or space bar to zoom.
Tags :
11 Views

IFRAME_HTML

98 Views

IFRAME_HTML

275 Views

IFRAME_HTML

778 Views

IFRAME_HTML

1153 Views

IFRAME_HTML

392 Views

IFRAME_HTML

337 Views

IFRAME_HTML

806 Views

IFRAME_HTML

1120 Views

IFRAME_HTML

789 Views

IFRAME_HTML

4120 Views

IFRAME_HTML
98 Views

IFRAME_HTML

778 Views

IFRAME_HTML

943 Views

IFRAME_HTML

833 Views

IFRAME_HTML

557 Views

IFRAME_HTML

400 Views

IFRAME_HTML

4336 Views

IFRAME_HTML

777 Views

IFRAME_HTML

299 Views

IFRAME_HTML
833 Views

IFRAME_HTML

381 Views

IFRAME_HTML

475 Views

IFRAME_HTML

1241 Views

IFRAME_HTML

628 Views

IFRAME_HTML

1305 Views

IFRAME_HTML

299 Views

IFRAME_HTML

966 Views

IFRAME_HTML

1580 Views

IFRAME_HTML

1666 Views

IFRAME_HTML
11 Views

IFRAME_HTML

275 Views

IFRAME_HTML

392 Views

IFRAME_HTML

400 Views

IFRAME_HTML

475 Views

IFRAME_HTML

1327 Views

IFRAME_HTML

9377 Views

IFRAME_HTML

1305 Views

IFRAME_HTML

3490 Views

IFRAME_HTML