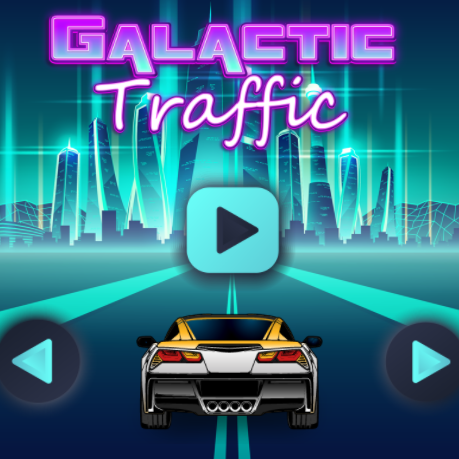 You need Adobe Flash Player to play Galactic Traffic.Click to use Flash
Galactic Traffic is a fun driving game. Your mission is to reach the finish line successfully and collect all the coins. The map is set in the future, you race through the traffic in a crazy way. Don't forget to collect cash and power-ups to complete your track. When starting the game, you choose for yourself a favorite car or you buy in the menu to have more quality cars. The game is simple but addictive with beautiful graphics the game gives you a lot of fun.
You can continue to play free car games here. It's in HTML5, no installation is required. Start playing now.
Controls :
Use WASD or arrow keys to move.
Tags :
10 Views

IFRAME_HTML

95 Views

IFRAME_HTML

72 Views

IFRAME_HTML

251 Views

IFRAME_HTML

189 Views

IFRAME_HTML

346 Views

IFRAME_HTML

152 Views

IFRAME_HTML

637 Views

IFRAME_HTML

182 Views

IFRAME_HTML

281 Views

IFRAME_HTML
95 Views

IFRAME_HTML

72 Views

IFRAME_HTML

637 Views

IFRAME_HTML

1869 Views

IFRAME_HTML

524 Views

IFRAME_HTML

461 Views

IFRAME_HTML

542 Views

IFRAME_HTML

961 Views

IFRAME_HTML

1535 Views

IFRAME_HTML

386 Views

IFRAME_HTML
346 Views

IFRAME_HTML

374 Views

IFRAME_HTML

1869 Views

IFRAME_HTML

936 Views

IFRAME_HTML

186 Views

IFRAME_HTML

524 Views

IFRAME_HTML

542 Views

IFRAME_HTML

315 Views

IFRAME_HTML

1535 Views

IFRAME_HTML

660 Views

IFRAME_HTML

952 Views

IFRAME_HTML
182 Views

IFRAME_HTML

1033 Views

IFRAME_HTML

605 Views

IFRAME_HTML

650 Views

IFRAME_HTML

1506 Views

IFRAME_HTML

825 Views

IFRAME_HTML

1598 Views

IFRAME_HTML

358 Views

IFRAME_HTML

1281 Views

IFRAME_HTML

2406 Views

IFRAME_HTML

882 Views

IFRAME_HTML