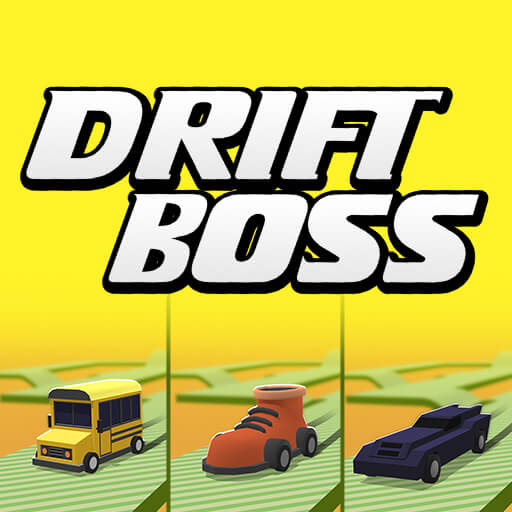 You need Adobe Flash Player to play Drift Boss.Click to use Flash
It's an online drift car game called Drift Boss Maintain perfect timing as you navigate an endless stretch of curves in order to avoid crashing into outer space. Drive like a champ. Smoothly veer left and right. Focus on your drifts and skids when you're in a tight spot. Drift Boss' gameplay is straightforward. The only thing you have to do is press and release the left and right buttons. Even so, achieving a high grade isn't easy. To avoid crashing into outer space, you must be able to anticipate changes in the path of the road ahead of time. You have a limited number of points. In what direction can you go? The more you drift and collect coins, the more vehicles you'll be able to unlock. Whether you're looking to show off your driving skills or put your reflexes to the test, Drift Boss is sure to be an engaging game that will keep you glued to the screen for hours.
It's a wonderful 3D arcade environment. Amass more trophies to gain access to more unique vehicles. Unlock taxis, police cars, ice cream trucks, ambulances, and firetrucks. Full-screen capability. Fully responsive design. The music is fantastic.
Controls :
Drift left and right with good timing.
Tags :
10 Views

IFRAME_HTML

95 Views

IFRAME_HTML

72 Views

IFRAME_HTML

251 Views

IFRAME_HTML

189 Views

IFRAME_HTML

346 Views

IFRAME_HTML

152 Views

IFRAME_HTML

191 Views

IFRAME_HTML

637 Views

IFRAME_HTML

634 Views

IFRAME_HTML

281 Views

IFRAME_HTML
191 Views

IFRAME_HTML

1033 Views

IFRAME_HTML

605 Views

IFRAME_HTML

650 Views

IFRAME_HTML

1506 Views

IFRAME_HTML

825 Views

IFRAME_HTML

1598 Views

IFRAME_HTML

358 Views

IFRAME_HTML

1281 Views

IFRAME_HTML

882 Views

IFRAME_HTML
95 Views

IFRAME_HTML

72 Views

IFRAME_HTML

637 Views

IFRAME_HTML

281 Views

IFRAME_HTML

936 Views

IFRAME_HTML

524 Views

IFRAME_HTML

186 Views

IFRAME_HTML

170 Views

IFRAME_HTML

461 Views

IFRAME_HTML

542 Views

IFRAME_HTML

386 Views

IFRAME_HTML
1535 Views

IFRAME_HTML

323 Views

IFRAME_HTML

1581 Views

IFRAME_HTML

941 Views

IFRAME_HTML

898 Views

IFRAME_HTML

1885 Views

IFRAME_HTML

825 Views

IFRAME_HTML

1598 Views

IFRAME_HTML

3122 Views

IFRAME_HTML

1281 Views

IFRAME_HTML
604 Views

IFRAME_HTML

754 Views

IFRAME_HTML

2397 Views

IFRAME_HTML

3419 Views

IFRAME_HTML

12127 Views

IFRAME_HTML

2385 Views

IFRAME_HTML

10269 Views

IFRAME_HTML

1170 Views

IFRAME_HTML

8640 Views

IFRAME_HTML

4709 Views

IFRAME_HTML

2007 Views

IFRAME_HTML