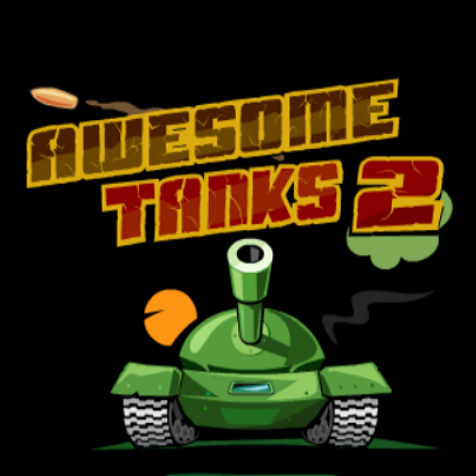 You need Adobe Flash Player to play Awesome Tanks 2.Click to use Flash
Awesome Tanks 2 is an engaging fighting game. Your task is to defeat enemy tanks, collect coins, and destroy the enemy base in order to clear each level. Collect coins along the way and use them to upgrade your tank with better armor, weapons, visibility and more.
You destroy rival tanks using cannons, flamethrowers, lasers, missiles and more with weapon upgrades. Don't forget to upgrade weapons to improve your fighting power. Need a performance upgrade, especially armor, which will help protect your tank against heavy fire. Movement speed is also useful for dodging, especially against oncoming missiles.
In each level, you'll be surrounded by darkness. You'll need to move and discover the place. The problem is, enemy tanks are lurking around every corner, so you better be on your guard. To be able to play in the next level you need to destroy all enemies. You can destroy the boxes you can see around to get more coins. The boxes are always essential, collect them all to get more power. But sometimes it's a trap, like a bomb, get away from it quickly.
As you progress, it gets harder and harder to earn rewards. You can choose the difficulty of the game. Your achievements will be recognized, so play as hard as you can.
Controls :
Use WASD or arrow keys to move.
Use Left mouse button to shoot.
Use Number keys to switch weapon.
Tags :
51 Views

IFRAME_HTML

447 Views

IFRAME_HTML

1151 Views

IFRAME_HTML

692 Views

IFRAME_HTML

832 Views

IFRAME_HTML

1702 Views

IFRAME_HTML

1009 Views

IFRAME_HTML

1907 Views

IFRAME_HTML

388 Views

IFRAME_HTML

1424 Views

IFRAME_HTML

2626 Views

IFRAME_HTML
393 Views

IFRAME_HTML

544 Views

IFRAME_HTML

408 Views

IFRAME_HTML

1825 Views

IFRAME_HTML

328 Views

IFRAME_HTML

1209 Views

IFRAME_HTML

751 Views

IFRAME_HTML

250 Views

IFRAME_HTML

212 Views

IFRAME_HTML

712 Views

IFRAME_HTML

727 Views

IFRAME_HTML
2646 Views

IFRAME_HTML

504 Views

IFRAME_HTML

1998 Views

IFRAME_HTML

1137 Views

IFRAME_HTML

988 Views

IFRAME_HTML

2099 Views

IFRAME_HTML

1009 Views

IFRAME_HTML

1907 Views

IFRAME_HTML

3505 Views

IFRAME_HTML

1424 Views

IFRAME_HTML

2626 Views

IFRAME_HTML