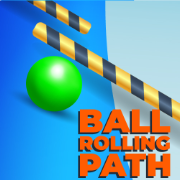 You need Adobe Flash Player to play Ball Rolling Path.Click to use Flash
Ball Rolling Path is a fast-paced ball-rolling game. By altering the direction of the ball, you may control it as it rolls on a diagonal. Your goal is to travel as far as possible while avoiding obstacles as the ball advances at different speeds. There are several obstacles moving around with a very small gap in the middle; make the ball fit and move first from small gaps to earn a high score. Survive as long as you possibly can. The game is basic, yet it is addictive and relaxing.
Ball Rolling Path is a free online game that works on all smartphones and tablets, including the iPhone, iPad, Samsung, and other Apple and Android platforms. To play more entertaining games, look below or at the action games categories, or at the related games area at the bottom of the games page.
Controls :
Use mouse or tap to change direction.
Tags :
47 Views

IFRAME_HTML

45 Views

IFRAME_HTML

168 Views

IFRAME_HTML

96 Views

IFRAME_HTML

454 Views

IFRAME_HTML

450 Views

IFRAME_HTML

236 Views

IFRAME_HTML

344 Views

IFRAME_HTML

571 Views

IFRAME_HTML

355 Views

IFRAME_HTML
454 Views

IFRAME_HTML

450 Views

IFRAME_HTML

1609 Views

IFRAME_HTML

481 Views

IFRAME_HTML

423 Views

IFRAME_HTML

504 Views

IFRAME_HTML

881 Views

IFRAME_HTML

1353 Views

IFRAME_HTML

339 Views

IFRAME_HTML

581 Views

IFRAME_HTML

597 Views

IFRAME_HTML
1019 Views

IFRAME_HTML

586 Views

IFRAME_HTML

614 Views

IFRAME_HTML

1479 Views

IFRAME_HTML

801 Views

IFRAME_HTML

1553 Views

IFRAME_HTML

357 Views

IFRAME_HTML

1256 Views

IFRAME_HTML

2377 Views

IFRAME_HTML

876 Views

IFRAME_HTML
453 Views

IFRAME_HTML

236 Views

IFRAME_HTML

877 Views

IFRAME_HTML

481 Views

IFRAME_HTML

171 Views

IFRAME_HTML

163 Views

IFRAME_HTML

423 Views

IFRAME_HTML

504 Views

IFRAME_HTML

339 Views

IFRAME_HTML

294 Views

IFRAME_HTML

857 Views

IFRAME_HTML
1353 Views

IFRAME_HTML

294 Views

IFRAME_HTML

1527 Views

IFRAME_HTML

910 Views

IFRAME_HTML

873 Views

IFRAME_HTML

1830 Views

IFRAME_HTML

801 Views

IFRAME_HTML

1553 Views

IFRAME_HTML

3041 Views

IFRAME_HTML

1256 Views

IFRAME_HTML

2377 Views

IFRAME_HTML