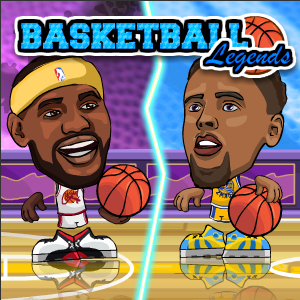 Basketball Stars is a super fun 2 player basketball game. There are world basketball legends in which you are incarnated as LeBron James, James Harden and Stephen Curry. You must try and beat teams and work your way. Control the ball flexibly and try to block the opposing team's shots. Unlock achievements along the way and become the best player in the tournament. Have fun.
Play similar fun ball games Basketball.io
Controls :
1 player controls
Use WASD or arrow keys to move.

Use

X/L to shoot/steal.

Use

S to pump/block.

Use

A+A or D+D or left/right arrow twice to dash.

Use

K/Z to super shot.
2 player controls
To move, player 1 use WASD - player 2 use arrow keys.
To shoot/steal, player 1 use B - player 2 use L.
To pump, player 1 use S - player 2 use down arrow.
To dash, player 1 use A/D twice - player 2 use left/right arrow twice.
K to super shot.
Tags :