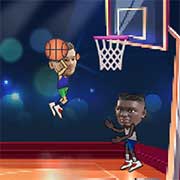 BasketBros a cool fast-paced basketball game. When start, you choose one of the characters to compete in one on one basketball. Go for crazy dunks, hit the stepback 3, or maybe even punch out your opponent. Can you perform incredible dunks, triples or maybe even hit your opponent if he gets away.
Controls :
Use WASD + G to play.
Use Arrows + L to play.
Tags :
488 Views

IFRAME_HTML

649 Views

IFRAME_HTML

492 Views

IFRAME_HTML

2189 Views

IFRAME_HTML
488 Views

IFRAME_HTML

649 Views

IFRAME_HTML

479 Views

IFRAME_HTML

2188 Views

IFRAME_HTML

1280 Views

IFRAME_HTML

2246 Views

IFRAME_HTML

2088 Views

IFRAME_HTML
489 Views

IFRAME_HTML

651 Views

IFRAME_HTML

220 Views

IFRAME_HTML

2874 Views

IFRAME_HTML

492 Views

IFRAME_HTML

2190 Views

IFRAME_HTML
489 Views

IFRAME_HTML

650 Views

IFRAME_HTML

2189 Views

IFRAME_HTML

2247 Views

IFRAME_HTML