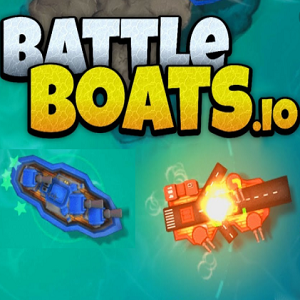 You need Adobe Flash Player to play BattleBoats.io.Click to use Flash
Battleboats.io is a hot multiplayer intense sea battle game. In it you will play with hundreds of players around the world. To win you need to destroy your enemies' base. Move the big bomb to the enemy's headquarters by picking up the mine crates. And collect enough experience crates to level up your boat. Don't forget additional ammo by picking up ammo barrels. Gather strength for your battleship: Mine crates, XP crates, Ammunition crates, Repair crates. There are two modes for you to play: HQ Destruction and Team Deathmatch. Take a breath and discover new things, chat with players around the world.
Controls :
Use W or up arrow to accelerate
Use AD or left/right arrow to rotate
Use the Space bar to open fire directions.
Use Q and E to firebombs.
Use Left click to move freely or shoot enemies.
Tags :
753 Views

IFRAME_HTML

436 Views

IFRAME_HTML

476 Views

IFRAME_HTML

297 Views

IFRAME_HTML

3303 Views

IFRAME_HTML

645 Views

IFRAME_HTML

242 Views

IFRAME_HTML

3076 Views

IFRAME_HTML
436 Views

IFRAME_HTML

283 Views

IFRAME_HTML

360 Views

IFRAME_HTML

1069 Views

IFRAME_HTML

510 Views

IFRAME_HTML

1114 Views

IFRAME_HTML

242 Views

IFRAME_HTML

791 Views

IFRAME_HTML
639 Views

IFRAME_HTML

593 Views

IFRAME_HTML

1293 Views

IFRAME_HTML

510 Views

IFRAME_HTML

1115 Views

IFRAME_HTML

2048 Views

IFRAME_HTML

791 Views

IFRAME_HTML

3076 Views

IFRAME_HTML