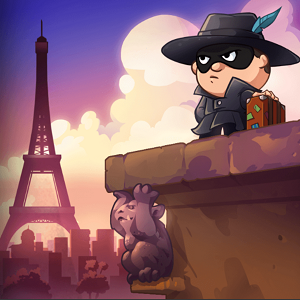 You need Adobe Flash Player to play Bob The Robber 4 Season 1: France.Click to use Flash
Bob The Robber 4 Season 1: France
In Bob The Robber 4 Season 1: France, Bob will have an interesting journey in Paris, the capital of France. You help Bob pick the lock to open the locked door and don't forget to check all the objects to find some money. The game has 15 levels, each with different designs, puzzles, and treasures. In each level, along with the main treasure, you can find hidden cash. Try to steal the target item and the go to the exit door to get out as fast as you can. You can use the money to buy new gadgets and costumes to the game is more interesting. To Paris, explore interesting maps from bright old houses to modern places like supermarkets. Good luck.
Controls :
Use Left and right arrow to move.
Use Up arrow to do action.
Tags :
48 Views

IFRAME_HTML

46 Views

IFRAME_HTML

169 Views

IFRAME_HTML

97 Views

IFRAME_HTML

128 Views

IFRAME_HTML

455 Views

IFRAME_HTML

450 Views

IFRAME_HTML

236 Views

IFRAME_HTML

344 Views

IFRAME_HTML

571 Views

IFRAME_HTML

355 Views

IFRAME_HTML
128 Views

IFRAME_HTML

1019 Views

IFRAME_HTML

586 Views

IFRAME_HTML

614 Views

IFRAME_HTML

1479 Views

IFRAME_HTML

801 Views

IFRAME_HTML

1553 Views

IFRAME_HTML

357 Views

IFRAME_HTML

1256 Views

IFRAME_HTML

2377 Views

IFRAME_HTML

876 Views

IFRAME_HTML
1353 Views

IFRAME_HTML

295 Views

IFRAME_HTML

1527 Views

IFRAME_HTML

910 Views

IFRAME_HTML

873 Views

IFRAME_HTML

1830 Views

IFRAME_HTML

801 Views

IFRAME_HTML

1553 Views

IFRAME_HTML

3041 Views

IFRAME_HTML

1256 Views

IFRAME_HTML

2377 Views

IFRAME_HTML