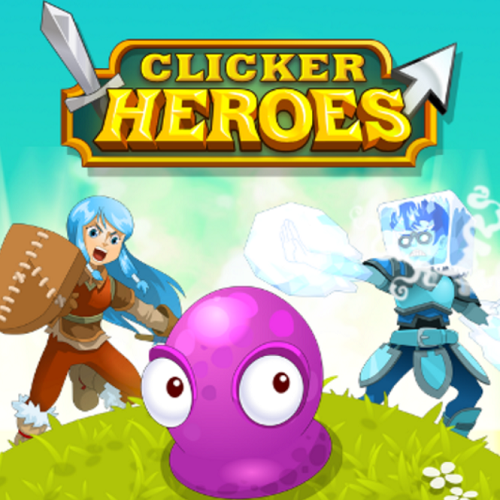 You need Adobe Flash Player to play Clicker Heroes.Click to use Flash
In Clicker Heroes, you begin a simple, yet incredibly fun idle adventure. You will encounter dangerous tarantulas, bees, mushrooms, and other foes in the forest. You only click to slay monsters for gold, find treasure, and explore new worlds. Spend that gold on hiring new heroes and get more damage. You must kill ten enemies in one level to advance to the next level. After primal bosses are killed, you must perform an Ascension before he or she receives Hero Souls. You can hire different heroes to help you play and fight. As you progress, the heroes become more expensive, but deal more damage as a result. Don't forget to use your click attack so that you can slay those monsters quicker.
Controls :
Use left click mouse to play.
Tags :
436 Views

IFRAME_HTML

283 Views

IFRAME_HTML

360 Views

IFRAME_HTML

1069 Views

IFRAME_HTML

510 Views

IFRAME_HTML

1114 Views

IFRAME_HTML

242 Views

IFRAME_HTML

791 Views

IFRAME_HTML

1378 Views

IFRAME_HTML
297 Views

IFRAME_HTML

360 Views

IFRAME_HTML

1054 Views

IFRAME_HTML

8479 Views

IFRAME_HTML

1114 Views

IFRAME_HTML

3076 Views

IFRAME_HTML

1048 Views

IFRAME_HTML

2373 Views

IFRAME_HTML

1589 Views

IFRAME_HTML
639 Views

IFRAME_HTML

593 Views

IFRAME_HTML

1293 Views

IFRAME_HTML

510 Views

IFRAME_HTML

1115 Views

IFRAME_HTML

2048 Views

IFRAME_HTML

791 Views

IFRAME_HTML

1378 Views

IFRAME_HTML

3076 Views

IFRAME_HTML