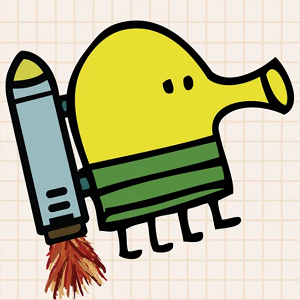 You need Adobe Flash Player to play Doodle Jump.Click to use Flash
Doodle Jump is a fun game. You control a doodle jump automatically. This game is an endless game, so you must simply keep jumping and try to register as high a score as you possibly can. Be careful with the nasty bugs too that will try and harm you. You can shoot other enemies to avoid being knocked out. You progress you will notice a variety of different platforms, it avoids boredom.
Controls :
Use the Left and right arrow to move.
Use the Left click to shoot.
Tags :
9 Views

IFRAME_HTML

93 Views

IFRAME_HTML

72 Views

IFRAME_HTML

250 Views

IFRAME_HTML

189 Views

IFRAME_HTML

343 Views

IFRAME_HTML

152 Views

IFRAME_HTML

637 Views

IFRAME_HTML

632 Views

IFRAME_HTML

278 Views

IFRAME_HTML
93 Views

IFRAME_HTML

72 Views

IFRAME_HTML

637 Views

IFRAME_HTML

632 Views

IFRAME_HTML

1866 Views

IFRAME_HTML

521 Views

IFRAME_HTML

460 Views

IFRAME_HTML

541 Views

IFRAME_HTML

961 Views

IFRAME_HTML

1533 Views

IFRAME_HTML

386 Views

IFRAME_HTML
1033 Views

IFRAME_HTML

603 Views

IFRAME_HTML

649 Views

IFRAME_HTML

1506 Views

IFRAME_HTML

824 Views

IFRAME_HTML

1597 Views

IFRAME_HTML

358 Views

IFRAME_HTML

1281 Views

IFRAME_HTML

2406 Views

IFRAME_HTML

881 Views

IFRAME_HTML
1533 Views

IFRAME_HTML

323 Views

IFRAME_HTML

1581 Views

IFRAME_HTML

941 Views

IFRAME_HTML

897 Views

IFRAME_HTML

1884 Views

IFRAME_HTML

824 Views

IFRAME_HTML

1597 Views

IFRAME_HTML

3122 Views

IFRAME_HTML

1281 Views

IFRAME_HTML

2406 Views

IFRAME_HTML