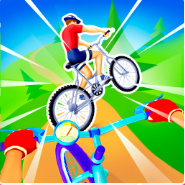 You need Adobe Flash Player to play Extreme Cycling.Click to use Flash
Cycle Extreme is a fast-paced, adrenaline-pumping ride! If you're looking for an adrenaline rush, this is the game for you! With its stunning 2D graphics and challenging gameplay, this game will take you on an exhilarating downhill ride. Get ready for a thrilling bike ride that will send shivers down your spine as you race down the mountain. The wind is blowing, and you're not ready for it. To reach the end of the game, you must complete all of the levels. In this game, you'll encounter dangerous terrain, high cliffs, and a wide range of hazards. The breathtaking views of dozens of locations, from snow-covered mountain peaks to sunny deserts, will leave you breathless. Every time you ride, you'll gain new abilities and unlock new features for your bike. Get your bike gear on and prepare for a wide range of challenges. As you pedal down the mountain, you'll be aiming for the finish line. The bike can be controlled by pressing WASD or arrow keys on the keyboard. In order to reach the finish line, you'll encounter a variety of obstacles, such as barrels, wheels, and gaps between mountains. The best way to avoid crashing is to ride your bike like a pro. The top-left corner of the screen displays a timer. Try to finish the race as quickly as possible in order to earn three stars. Enjoy yourself! Go through each level quickly so that you can score three stars on each one.
Controls :
Use the arrow keys or the WASD keys to control your bike.
Tags :
9 Views

IFRAME_HTML

93 Views

IFRAME_HTML

72 Views

IFRAME_HTML

250 Views

IFRAME_HTML

189 Views

IFRAME_HTML

343 Views

IFRAME_HTML

152 Views

IFRAME_HTML

190 Views

IFRAME_HTML

637 Views

IFRAME_HTML

632 Views

IFRAME_HTML

278 Views

IFRAME_HTML
93 Views

IFRAME_HTML

72 Views

IFRAME_HTML

637 Views

IFRAME_HTML

278 Views

IFRAME_HTML

936 Views

IFRAME_HTML

521 Views

IFRAME_HTML

186 Views

IFRAME_HTML

170 Views

IFRAME_HTML

460 Views

IFRAME_HTML

541 Views

IFRAME_HTML

386 Views

IFRAME_HTML
1533 Views

IFRAME_HTML

323 Views

IFRAME_HTML

1581 Views

IFRAME_HTML

941 Views

IFRAME_HTML

897 Views

IFRAME_HTML

1884 Views

IFRAME_HTML

824 Views

IFRAME_HTML

1597 Views

IFRAME_HTML

3122 Views

IFRAME_HTML

1281 Views

IFRAME_HTML

2406 Views

IFRAME_HTML