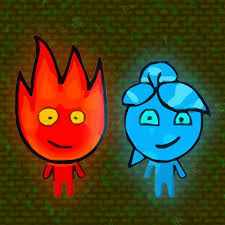 You need Adobe Flash Player to play Fireboy And Watergirl.Click to use Flash
Fireboy And Watergirl is an interesting addictive puzzle game. You control Fireboy And Watergirl both characters at the same time, working together to find a safe exit. Fireboy is a fire-fingered boy who can get through the lava lakes without any problem, being immune to everything that is fire or flame. Watergirl is a colored in blue and symbolizing water, it is immune to everything that means water, ice, snow, managing to get through these obstacles easily. They can help each other by pushing buttons and by moving doors. You need to collect red, green, blue, orange diamonds as well as additional lives to pass all levels of difficulty of the game.
The game is divided into 5 sessions: Forest, Light, Ice, Crystal, Element, and each session has multiple levels.
Controls :
Use arrow keys to control fireboy.
Use WAD to control watergirl.
Tags :
584 Views

IFRAME_HTML

214 Views

IFRAME_HTML

418 Views

IFRAME_HTML

264 Views

IFRAME_HTML

2745 Views

IFRAME_HTML

563 Views

IFRAME_HTML

209 Views

IFRAME_HTML

2767 Views

IFRAME_HTML
214 Views

IFRAME_HTML

214 Views

IFRAME_HTML

292 Views

IFRAME_HTML

901 Views

IFRAME_HTML

405 Views

IFRAME_HTML

954 Views

IFRAME_HTML

209 Views

IFRAME_HTML

635 Views

IFRAME_HTML
540 Views

IFRAME_HTML

506 Views

IFRAME_HTML

1107 Views

IFRAME_HTML

405 Views

IFRAME_HTML

954 Views

IFRAME_HTML

1767 Views

IFRAME_HTML

635 Views

IFRAME_HTML

2767 Views

IFRAME_HTML