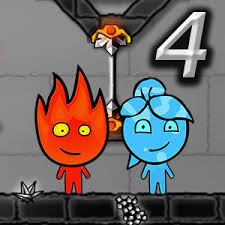 You need Adobe Flash Player to play Fireboy And Watergirl 4: The Crystal Temple.Click to use Flash
Fireboy And Watergirl 4: The Crystal Temple
In Fireboy And Watergirl 4: The Crystal Temple, you join the dynamic duo on their next thrilling journey. Explore a temple filled with portals powered by magical crystals. Watch out for all dangers and observe the colors of the teleporters, teleport from one side to the other Complete all challenging levels. You should use sticks or buttons to open doors or let the platforms move. Remember to avoid watered areas with fireboy and to avoid fired areas with watergirl. Have fun.
Travel to all temples in the Fireboy Watergirl series. Enter the new Fire Temple, The Light Temple, The Ice Temple, The Crystal Temple, and Elements. In FBWG5 you can play the adventure alone or with a friend.
Controls :
Use AWD to move Watergirl.
Use the arrow keys to move Fireboy.
Tags :
584 Views

IFRAME_HTML

214 Views

IFRAME_HTML

418 Views

IFRAME_HTML

264 Views

IFRAME_HTML

2746 Views

IFRAME_HTML

563 Views

IFRAME_HTML

209 Views

IFRAME_HTML

2767 Views

IFRAME_HTML
214 Views

IFRAME_HTML

214 Views

IFRAME_HTML

292 Views

IFRAME_HTML

901 Views

IFRAME_HTML

405 Views

IFRAME_HTML

954 Views

IFRAME_HTML

209 Views

IFRAME_HTML

635 Views

IFRAME_HTML
540 Views

IFRAME_HTML

506 Views

IFRAME_HTML

1109 Views

IFRAME_HTML

405 Views

IFRAME_HTML

954 Views

IFRAME_HTML

1768 Views

IFRAME_HTML

635 Views

IFRAME_HTML

2767 Views

IFRAME_HTML