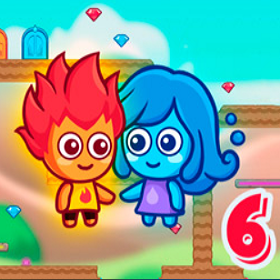 You need Adobe Flash Player to play Fireboy and Watergirl 6.Click to use Flash
Fireboy and Watergirl 6 is a puzzle game that is loved by many people. In this game, you control two characters Fireboy and Watergir simultaneously to find a way to open the door to level up. You explore temples, gathering precious energy to find lost elements. In this part, create different characters to create a feeling that is both strange and familiar to the player.
Remember that Water can only collect blue crystals, and Fire can only collect stones of flame. Carefully read each instruction if noted to avoid traps. Finish the action of both characters to open obstacles. Don't forget there are pools of water that neither of them can touch. If either character dies you will have to start over. Don't worry practice and get the highest title in the game.
You can play alone with both characters at once, or enlist the help of a friend and play for two. The game has many levels for you to explore and unlock. Are you ready?
Controls :
Use WASD to control Fireboy.
Use arrow keys to control Watergirl.
Tags :
9 Views

IFRAME_HTML

93 Views

IFRAME_HTML

72 Views

IFRAME_HTML

250 Views

IFRAME_HTML

189 Views

IFRAME_HTML

343 Views

IFRAME_HTML

152 Views

IFRAME_HTML

637 Views

IFRAME_HTML

278 Views

IFRAME_HTML
93 Views

IFRAME_HTML

72 Views

IFRAME_HTML

637 Views

IFRAME_HTML

1866 Views

IFRAME_HTML

521 Views

IFRAME_HTML

460 Views

IFRAME_HTML

541 Views

IFRAME_HTML

961 Views

IFRAME_HTML

386 Views

IFRAME_HTML
343 Views

IFRAME_HTML

374 Views

IFRAME_HTML

1866 Views

IFRAME_HTML

936 Views

IFRAME_HTML

186 Views

IFRAME_HTML

524 Views

IFRAME_HTML

541 Views

IFRAME_HTML

314 Views

IFRAME_HTML

660 Views

IFRAME_HTML

952 Views

IFRAME_HTML
1033 Views

IFRAME_HTML

603 Views

IFRAME_HTML

649 Views

IFRAME_HTML

1506 Views

IFRAME_HTML

824 Views

IFRAME_HTML

1597 Views

IFRAME_HTML

358 Views

IFRAME_HTML

1281 Views

IFRAME_HTML

2406 Views

IFRAME_HTML

881 Views

IFRAME_HTML
323 Views

IFRAME_HTML

1581 Views

IFRAME_HTML

941 Views

IFRAME_HTML

897 Views

IFRAME_HTML

1884 Views

IFRAME_HTML

824 Views

IFRAME_HTML

1597 Views

IFRAME_HTML

3122 Views

IFRAME_HTML

1281 Views

IFRAME_HTML

2406 Views

IFRAME_HTML