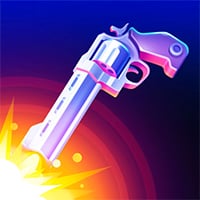 You need Adobe Flash Player to play Flip The Gun.Click to use Flash
Flip The Gun is an awesome arcade game. You have 40 mm pistols, machine guns, revolvers with lights, and assault rifles with their characteristic sounds. Your task is to you must try to keep the gun in the air by firing it at the right time. Relying on the gun's reaction will cause the gun to fly upwards, time the flight of the gun to perfection, and fire at the right time to keep the firearm airborne. The weapon jumps and recoils in the opposite direction of the shot, and you have to calculate how often you pull the trigger, tap your device screen, so you don't get defeated. The further that you travel the more points that you will gain. Collect coins, ammo, and boosts to make your game last longer. Once you run out of ammo or hit the bottom, the game is over. Use the coins you earn to unlock new guns that help you flip even higher. Flip The Gun game is uncomplicated and the simplicity of the game makes it fun, exciting. Try to score on the leaderboard and put your name on it. Have fun.
Controls :
Spacebar or LMB to shoot the gun.
Tags :
693 Views

IFRAME_HTML

358 Views

IFRAME_HTML

467 Views

IFRAME_HTML

293 Views

IFRAME_HTML

3175 Views

IFRAME_HTML

624 Views

IFRAME_HTML

230 Views

IFRAME_HTML

2988 Views

IFRAME_HTML
358 Views

IFRAME_HTML

264 Views

IFRAME_HTML

340 Views

IFRAME_HTML

1028 Views

IFRAME_HTML

480 Views

IFRAME_HTML

1075 Views

IFRAME_HTML

230 Views

IFRAME_HTML

756 Views

IFRAME_HTML
612 Views

IFRAME_HTML

568 Views

IFRAME_HTML

1245 Views

IFRAME_HTML

480 Views

IFRAME_HTML

1075 Views

IFRAME_HTML

1963 Views

IFRAME_HTML

756 Views

IFRAME_HTML

2989 Views

IFRAME_HTML