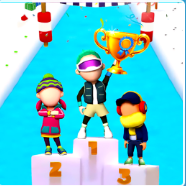 You need Adobe Flash Player to play Fun Race On Ice.Click to use Flash
Fun Race On Ice is a fantastic jogging game for children. The game's participants will take part in a thrilling winter obstacle course. Instead of running fast, you need quick reactions to halt at the proper time to win the game. Because you will fall behind your opponent once you strike the obstacles. You can't get ahead if you fall behind and your opponent doesn't make mistakes. The secret to winning this race is to master your running rhythm. Try to watch thoroughly so that you can react appropriately and on time.
Fun Race On Ice is a children's online game that can be played on any smartphone or tablet, including the iPhone, iPad, Samsung, and other Apple and Android platforms. You can play on all of your devices for free. Have some fun.
Controls :
Tags :
10 Views

IFRAME_HTML

251 Views

IFRAME_HTML

189 Views

IFRAME_HTML

346 Views

IFRAME_HTML

152 Views

IFRAME_HTML

281 Views

IFRAME_HTML
1869 Views

IFRAME_HTML

524 Views

IFRAME_HTML

461 Views

IFRAME_HTML

961 Views

IFRAME_HTML

386 Views

IFRAME_HTML
346 Views

IFRAME_HTML

374 Views

IFRAME_HTML

1869 Views

IFRAME_HTML

936 Views

IFRAME_HTML

186 Views

IFRAME_HTML

524 Views

IFRAME_HTML

315 Views

IFRAME_HTML

660 Views

IFRAME_HTML

952 Views

IFRAME_HTML
1033 Views

IFRAME_HTML

605 Views

IFRAME_HTML

650 Views

IFRAME_HTML

1506 Views

IFRAME_HTML

825 Views

IFRAME_HTML

1598 Views

IFRAME_HTML

358 Views

IFRAME_HTML

1281 Views

IFRAME_HTML

2406 Views

IFRAME_HTML

882 Views

IFRAME_HTML
281 Views

IFRAME_HTML

936 Views

IFRAME_HTML

524 Views

IFRAME_HTML

186 Views

IFRAME_HTML

170 Views

IFRAME_HTML

461 Views

IFRAME_HTML

386 Views

IFRAME_HTML
323 Views

IFRAME_HTML

1581 Views

IFRAME_HTML

941 Views

IFRAME_HTML

898 Views

IFRAME_HTML

1885 Views

IFRAME_HTML

825 Views

IFRAME_HTML

1598 Views

IFRAME_HTML

3122 Views

IFRAME_HTML

1281 Views

IFRAME_HTML

2406 Views

IFRAME_HTML