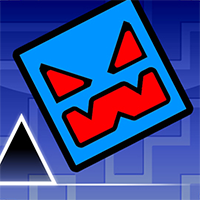 You need Adobe Flash Player to play Geometry Jump.Click to use Flash
In Geometry Jump, you walk through the clutter of geometry, challenge your limits. You need to keep Square safe and under control while avoiding all dangerous passages and spiky obstacles including falling spikes, swinging bomb... Try to do as many jumps as you can, don't be touched by the big boss wall with spikes coming from the left, continuously, and don't fall by missing tiles. The game has a high level of difficulty, the later it is almost impossible, challenge your skills. Remember to collect all the coins to earn score. This game comes with 3 type of difficulty level and more than 100 mission level. Exciting game rhythm with stunning sound effects will get your entertain.
Controls :
Use tap or click to jump, avoid all obstacles with safe.
Tags :
47 Views

IFRAME_HTML

45 Views

IFRAME_HTML

168 Views

IFRAME_HTML

96 Views

IFRAME_HTML

454 Views

IFRAME_HTML

450 Views

IFRAME_HTML

236 Views

IFRAME_HTML

344 Views

IFRAME_HTML

571 Views

IFRAME_HTML

355 Views

IFRAME_HTML
454 Views

IFRAME_HTML

450 Views

IFRAME_HTML

1609 Views

IFRAME_HTML

481 Views

IFRAME_HTML

423 Views

IFRAME_HTML

504 Views

IFRAME_HTML

881 Views

IFRAME_HTML

1353 Views

IFRAME_HTML

339 Views

IFRAME_HTML

581 Views

IFRAME_HTML

597 Views

IFRAME_HTML
1019 Views

IFRAME_HTML

586 Views

IFRAME_HTML

614 Views

IFRAME_HTML

1479 Views

IFRAME_HTML

801 Views

IFRAME_HTML

1553 Views

IFRAME_HTML

357 Views

IFRAME_HTML

1256 Views

IFRAME_HTML

2377 Views

IFRAME_HTML

876 Views

IFRAME_HTML
455 Views

IFRAME_HTML

236 Views

IFRAME_HTML

878 Views

IFRAME_HTML

481 Views

IFRAME_HTML

171 Views

IFRAME_HTML

163 Views

IFRAME_HTML

423 Views

IFRAME_HTML

504 Views

IFRAME_HTML

339 Views

IFRAME_HTML

295 Views

IFRAME_HTML

857 Views

IFRAME_HTML
1353 Views

IFRAME_HTML

294 Views

IFRAME_HTML

1527 Views

IFRAME_HTML

910 Views

IFRAME_HTML

873 Views

IFRAME_HTML

1830 Views

IFRAME_HTML

801 Views

IFRAME_HTML

1553 Views

IFRAME_HTML

3041 Views

IFRAME_HTML

1256 Views

IFRAME_HTML

2377 Views

IFRAME_HTML