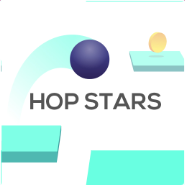 You need Adobe Flash Player to play Hop Stars.Click to use Flash
Hop Stars is the fun endless running ball game. In which you control a blue ball that runs continuously through the platforms, you need to help the ball jump on purpose without falling off the platforms and go get as far as possible. Falling into the gap between platforms forces you to start from scratch, so be extra careful. Your reaction is the key to success, you need to practice a lot to be able to go further, without losing from the very first minute. Along the way, you will collect coins, don't forget to use them to unlock different balls with an endless fun theme. You can enlarge the game screen for the best experience. Play the game and try to score as many points as you can to top the leaderboard. Hop Stars is a super simple but extremely addictive game. You can play the game online for free and the game is compatible with any device. Wish you have a nice time.
Controls :
Click and hold the mouse button to keep the ball moving forward, and move left and right to move it side to side.
Tags :
48 Views

IFRAME_HTML

46 Views

IFRAME_HTML

169 Views

IFRAME_HTML

97 Views

IFRAME_HTML

128 Views

IFRAME_HTML

455 Views

IFRAME_HTML

144 Views

IFRAME_HTML

236 Views

IFRAME_HTML

344 Views

IFRAME_HTML

571 Views

IFRAME_HTML

355 Views

IFRAME_HTML
128 Views

IFRAME_HTML

455 Views

IFRAME_HTML

1612 Views

IFRAME_HTML

481 Views

IFRAME_HTML

423 Views

IFRAME_HTML

882 Views

IFRAME_HTML

339 Views

IFRAME_HTML

581 Views

IFRAME_HTML

597 Views

IFRAME_HTML
169 Views

IFRAME_HTML

355 Views

IFRAME_HTML

1613 Views

IFRAME_HTML

878 Views

IFRAME_HTML

171 Views

IFRAME_HTML

491 Views

IFRAME_HTML

304 Views

IFRAME_HTML

637 Views

IFRAME_HTML

891 Views

IFRAME_HTML
456 Views

IFRAME_HTML

145 Views

IFRAME_HTML

236 Views

IFRAME_HTML

878 Views

IFRAME_HTML

481 Views

IFRAME_HTML

171 Views

IFRAME_HTML

163 Views

IFRAME_HTML

423 Views

IFRAME_HTML

339 Views

IFRAME_HTML

295 Views

IFRAME_HTML

857 Views

IFRAME_HTML
144 Views

IFRAME_HTML

295 Views

IFRAME_HTML

1527 Views

IFRAME_HTML

910 Views

IFRAME_HTML

873 Views

IFRAME_HTML

1830 Views

IFRAME_HTML

801 Views

IFRAME_HTML

1553 Views

IFRAME_HTML

3041 Views

IFRAME_HTML

1256 Views

IFRAME_HTML

2377 Views

IFRAME_HTML