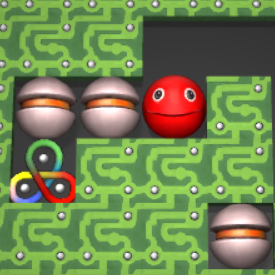 You need Adobe Flash Player to play Hyperplex 3D.Click to use Flash
Hyperplex 3D is a hot game, remaster of a popular MS-DOS, Amiga game. Your goal is to reach the exit of each level. To succeed you need to collect enough infotrons. Each level is a difficult experience. The challenges are different, but you have to find a way to solve them without getting trapped. The game has 111 Playable levels that contain easy to difficult puzzles, which amount to hours of playtime. Multiple objects to interact with, such as Enemies, Bombs you can drop, ports you can go through and terminals that explode floppys. The game is really addictive while challenging your brain to find the perfect solution.
Controls :
Use WASD /arrow keys to move.
Hold space and move to interact.
Use Escape to explode yourself or exit menus.
Tags :
214 Views

IFRAME_HTML

214 Views

IFRAME_HTML

291 Views

IFRAME_HTML

899 Views

IFRAME_HTML

405 Views

IFRAME_HTML

208 Views

IFRAME_HTML

633 Views

IFRAME_HTML

1495 Views

IFRAME_HTML

1232 Views

IFRAME_HTML
264 Views

IFRAME_HTML

291 Views

IFRAME_HTML

867 Views

IFRAME_HTML

7172 Views

IFRAME_HTML

1496 Views

IFRAME_HTML

2763 Views

IFRAME_HTML

1022 Views

IFRAME_HTML

2283 Views

IFRAME_HTML

1549 Views

IFRAME_HTML
534 Views

IFRAME_HTML

505 Views

IFRAME_HTML

1104 Views

IFRAME_HTML

405 Views

IFRAME_HTML

1759 Views

IFRAME_HTML

633 Views

IFRAME_HTML

1495 Views

IFRAME_HTML

1232 Views

IFRAME_HTML

2763 Views

IFRAME_HTML