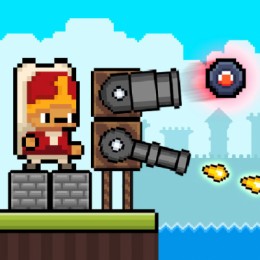 You need Adobe Flash Player to play Janissary Tower.Click to use Flash
Janissary Tower is a cool 2-player tower battle game. You are a worker in two great empires and your mission is to defend the tower from the enemy empire in this fun two-player game. In the game, you need to build a defense and destroy your opponents using cannons.
To start the game, select the level first. In small boxes, you will find weapons to fill the tanks and open fire. A machine in the sky will hand down extra weapons to you for later when you are out of bullets. There are three different types of cannons, each with unique features, and they will be effective weapons depending on your strategy. Collect bricks to reach different points on the map and strengthen your defenses. Try to collect flying smart balloons and game bonuses but be faster than your enemies.
The mission is bigger than you both have a common enemy who sends war machines into the sky to kill you. You can play 6 different levels with different architectures of each level. Can you create your own fortified tower?
Controls :
Player 1: Use WASD to control and shoot.
Player 2: Use arrow keys to control and shoot.
Tags :
18 Views

IFRAME_HTML

92 Views

IFRAME_HTML

158 Views

SWF

103 Views

IFRAME_HTML

323 Views

IFRAME_HTML

517 Views

IFRAME_HTML

163 Views

IFRAME_HTML

243 Views

IFRAME_HTML

352 Views

IFRAME_HTML

127 Views

IFRAME_HTML

308 Views

IFRAME_HTML
18 Views

IFRAME_HTML

303 Views

IFRAME_HTML

208 Views

IFRAME_HTML

2138 Views

IFRAME_HTML

444 Views

IFRAME_HTML

175 Views

IFRAME_HTML

2349 Views

IFRAME_HTML
130 Views

IFRAME_HTML

227 Views

IFRAME_HTML

716 Views

IFRAME_HTML

313 Views

IFRAME_HTML

775 Views

IFRAME_HTML

175 Views

IFRAME_HTML

493 Views

IFRAME_HTML
415 Views

IFRAME_HTML

389 Views

IFRAME_HTML

860 Views

IFRAME_HTML

313 Views

IFRAME_HTML

775 Views

IFRAME_HTML

1450 Views

IFRAME_HTML

493 Views

IFRAME_HTML

2349 Views

IFRAME_HTML