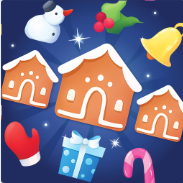 You need Adobe Flash Player to play Jewel Christmas Mania.Click to use Flash
Jewel Christmas Mania is a puzzle game based on the popular Christmas candy game of the same name. You're having a good time with the snowman, gingerbread, and Christmas balls. Your goal is to remove three similarly shaped Christmas gifts by swapping and matching them. To obtain additional points, try to match four or more to construct explosives. In the unique bonus wheel, you may get more boosters. Before you run out of moves or time, collect enough points to win. Use the abilities you've chosen by clicking the symbol. When you accomplish joyful moments, you will get additional points! For a limited number of moves, calculate the target score.
The game's aesthetics are appealing, and the gameplay is simple enough for novices but tough enough for expert gamers. Because the clock is ticking and time is running out, you must be fast and clever. There are 150 levels to complete in the game, as well as numerous challenges and rewards to be won along the way. So grab your Santa hat and get ready to have some fun. There's also music to help you feel, think, and relax in the festive Christmas spirit. The game is free to play and compatible on all your devices.
Controls :
Use the left click to play this game.
Tags :