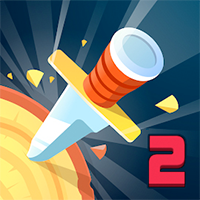 You need Adobe Flash Player to play Knife Hit 2.Click to use Flash
Knife Hit 2 is popular arcade game. In the game, you need to throw a number of knives at a spinning target. Simple game rules, you just need to click the big play button to start having fun. Remember you don't hit the knife you threw or it will pop out and you will have to start over. You have to be extremely careful when throwing the knife to make sure it sticks. Because the turntable will speed up, slow down and even change direction. Try not to target the poor people tied to the wheel. Collect gems to unlock new cool swords and reach as far as possible.
Controls :
Left click to throw a knife.
Tags :