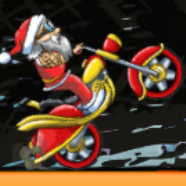 You need Adobe Flash Player to play Moto X3M 4 Winter.Click to use Flash
Moto X3M 4 Winter is a hot game. You must control your bike through a series of winter wonderland themed levels covered in snow, pines trees, and festive decorations. Try and complete as many flips as possible to gain a score boost and to complete each level with 3x stars. The game has 15 levels with new maps, You can get through and stand on the top of the glory of this adventure game.
Controls :
Use W or up arrow to accelerate.
Use S or down arrow to brake.
Use A or left arrow to tilt left.
Use D or right arrow to tilt right.
Use the Space bar to continue the race.
Tags :
753 Views

IFRAME_HTML

436 Views

IFRAME_HTML

476 Views

IFRAME_HTML

297 Views

IFRAME_HTML

3303 Views

IFRAME_HTML

645 Views

IFRAME_HTML

242 Views

IFRAME_HTML

3076 Views

IFRAME_HTML
436 Views

IFRAME_HTML

283 Views

IFRAME_HTML

360 Views

IFRAME_HTML

1069 Views

IFRAME_HTML

510 Views

IFRAME_HTML

1114 Views

IFRAME_HTML

242 Views

IFRAME_HTML

791 Views

IFRAME_HTML
639 Views

IFRAME_HTML

593 Views

IFRAME_HTML

1293 Views

IFRAME_HTML

510 Views

IFRAME_HTML

1115 Views

IFRAME_HTML

2048 Views

IFRAME_HTML

791 Views

IFRAME_HTML

3076 Views

IFRAME_HTML