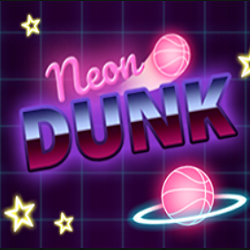 You need Adobe Flash Player to play Neon Dunk.Click to use Flash
Neon Dunk is a cool Basketball game. You must shoot a basketball through a series of neon hoops. The game is simple but you will have a lot of difficulties controlling your ball. The speed of falling is fast, you will quickly touch the upper or lower spikes, then you will lose. Do not forget to collect stars. This game is endless so you must simply see how many baskets you can score. Good luck.
Controls :
Use left/right arrow or left click to move the ball.
Tags :
51 Views

IFRAME_HTML

447 Views

IFRAME_HTML

1151 Views

IFRAME_HTML

690 Views

IFRAME_HTML

832 Views

IFRAME_HTML

1702 Views

IFRAME_HTML

1009 Views

IFRAME_HTML

1907 Views

IFRAME_HTML

388 Views

IFRAME_HTML

1424 Views

IFRAME_HTML

2626 Views

IFRAME_HTML
393 Views

IFRAME_HTML

543 Views

IFRAME_HTML

408 Views

IFRAME_HTML

1825 Views

IFRAME_HTML

328 Views

IFRAME_HTML

1209 Views

IFRAME_HTML

751 Views

IFRAME_HTML

250 Views

IFRAME_HTML

212 Views

IFRAME_HTML

712 Views

IFRAME_HTML

727 Views

IFRAME_HTML
2646 Views

IFRAME_HTML

504 Views

IFRAME_HTML

1998 Views

IFRAME_HTML

1137 Views

IFRAME_HTML

988 Views

IFRAME_HTML

2099 Views

IFRAME_HTML

1009 Views

IFRAME_HTML

1907 Views

IFRAME_HTML

3505 Views

IFRAME_HTML

1424 Views

IFRAME_HTML

2626 Views

IFRAME_HTML