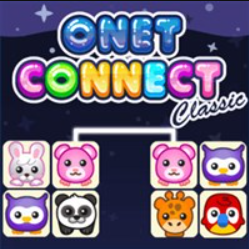 You need Adobe Flash Player to play Onet Connect Classic.Click to use Flash
Onet Connect Classic is a classic style connecting game. Your task is to connect two same things and clear the board completely. To connect them together, you need to pay attention that there can't be any obstacles in the way between two identical cells. Remember that a two-dash line can only change direction twice. The game has a time limit, you have five minutes to complete each level. This makes this animal and fruit connect game stand out from countless other Connect 3 or Connect 4 games. You need some pretty involved coordination and strategic thinking skills to solve the game. When you are stuck, can't find the same pair on the board, don't worry, you will get help, ey at the top right of the screen you find two icons, a magnifying glass, and a mix button. The magnifying glass helps you identify the next possible connection option. As for the shuffle button, yes it will shuffle what's available and you can easily find them to connect. Play strategically because if there are no remaining moves to link the two cells, the board will reform. If you no longer shuffle or time runs out, the game is over! How many levels can you beat?
Controls :
Press the left mouse to choose an object.
Tags :