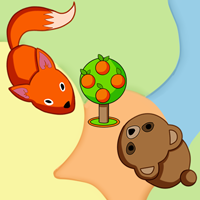 You need Adobe Flash Player to play PaperAnimals.io.Click to use Flash
PaperAnimals.io is a fun animal game. You start with a small wild animal and fight for survival with players around the world. You run around grasslands, hills, and trees, and mark your territory as you go. Take control of the area and don't allow anyone to enter your domain, and take over other players' territories. To survive, you cannot cross your own path, nor crash into the edge of the map. Use slowing the enemy when he attacks you to your advantage. As you progress you have the opportunity to change characters, each character has different characteristics in terms of advantages and disadvantages. Some can speed up, others can slow down enemies. Discover all the perks and unlock new beasts by leveling up. Learn the hardest fighting techniques in PaperAnimals.io to beat your opponents with certainty and take first place on the leaderboard. Play, win, and unlock new heroes.
Controls :
Use mouse to control.
Use click to activate the skill.
Tags :
9 Views

IFRAME_HTML

93 Views

IFRAME_HTML

72 Views

IFRAME_HTML

250 Views

IFRAME_HTML

189 Views

IFRAME_HTML

343 Views

IFRAME_HTML

152 Views

IFRAME_HTML

190 Views

IFRAME_HTML

637 Views

IFRAME_HTML

632 Views

IFRAME_HTML

278 Views

IFRAME_HTML
190 Views

IFRAME_HTML

1033 Views

IFRAME_HTML

603 Views

IFRAME_HTML

649 Views

IFRAME_HTML

1506 Views

IFRAME_HTML

824 Views

IFRAME_HTML

1597 Views

IFRAME_HTML

358 Views

IFRAME_HTML

1281 Views

IFRAME_HTML

2406 Views

IFRAME_HTML

881 Views

IFRAME_HTML
1533 Views

IFRAME_HTML

323 Views

IFRAME_HTML

1581 Views

IFRAME_HTML

941 Views

IFRAME_HTML

897 Views

IFRAME_HTML

1884 Views

IFRAME_HTML

824 Views

IFRAME_HTML

1597 Views

IFRAME_HTML

3122 Views

IFRAME_HTML

1281 Views

IFRAME_HTML

2406 Views

IFRAME_HTML