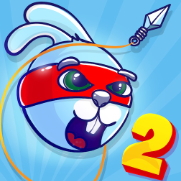 You need Adobe Flash Player to play Rabbit Samurai 2.Click to use Flash
Rabbit Samurai 2 is a ball game with unusual gameplay. Click and hold to shoot your hook in any direction to control a rabbit ball. Guide the ball through the forest, collecting as many hidden carrots, bees, and diamonds as you can. To complete the level, you must safely reach the door. You must find and rescue the little mice from the mousetrap at the wolf's lair in the green land, especially before reaching the safe place. There are many various obstacles and traps along the path, and you must control your bunny ball to jump and soar past all of the dangerous areas. Each level has a finite number of carrots, and it is simple for a casual player to miss them. Success is contingent not only on selecting the correct location to aim the hook, but also on releasing go of the rope at the appropriate time. If the rabbit does not cling to the wall, it will roll over, so keep an eye out for those traps! Aim and click to release the hook. To let go, release the button!
Controls :
Use arrow key to control.
Tags :
10 Views

IFRAME_HTML

251 Views

IFRAME_HTML

189 Views

IFRAME_HTML

346 Views

IFRAME_HTML

152 Views

IFRAME_HTML

634 Views

IFRAME_HTML

281 Views

IFRAME_HTML
634 Views

IFRAME_HTML

1869 Views

IFRAME_HTML

524 Views

IFRAME_HTML

461 Views

IFRAME_HTML

542 Views

IFRAME_HTML

961 Views

IFRAME_HTML

1535 Views

IFRAME_HTML

386 Views

IFRAME_HTML
1033 Views

IFRAME_HTML

605 Views

IFRAME_HTML

650 Views

IFRAME_HTML

1506 Views

IFRAME_HTML

825 Views

IFRAME_HTML

1598 Views

IFRAME_HTML

358 Views

IFRAME_HTML

1281 Views

IFRAME_HTML

2406 Views

IFRAME_HTML

882 Views

IFRAME_HTML
281 Views

IFRAME_HTML

936 Views

IFRAME_HTML

524 Views

IFRAME_HTML

186 Views

IFRAME_HTML

170 Views

IFRAME_HTML

461 Views

IFRAME_HTML

542 Views

IFRAME_HTML

386 Views

IFRAME_HTML
1535 Views

IFRAME_HTML

323 Views

IFRAME_HTML

1581 Views

IFRAME_HTML

941 Views

IFRAME_HTML

898 Views

IFRAME_HTML

1885 Views

IFRAME_HTML

825 Views

IFRAME_HTML

1598 Views

IFRAME_HTML

3122 Views

IFRAME_HTML

1281 Views

IFRAME_HTML

2406 Views

IFRAME_HTML